We can make bespoke waterproof covers to protect your important assets
At Cunningham Covers, we have over 50 years experience creating waterproof covers for the manufacturing, construction, transport and oil and gas industries. Our experienced design team will work with you to develop a waterproof cover unique to your needs. Each product is manufactured as made to order, so talk to us to discuss your waterproof cover today.
Cunningham Covers Waterproof Industrial Covers
Working closely with a range of industries, we understand the difficulties that arise from water damage to machinery and systems. We treat each project individually and have already developed a wide range of bespoke waterproof covers including:
Waterproof agricultural covers
Waterproof awning covers
Waterproof festival stage blackout screens
Waterproof industrial equipment covers
Waterproof lorry covers
Waterproof machine covers
Waterproof partition curtains
Waterproof storage tank covers
Waterproof sports pitch covers
Waterproof trailer covers
Heavy Duty Water Protection Covers
To protect against even the most extreme environments, our heavy-duty water protection covers use one of the strongest industrial textile materials available. Made with a combination of natural cotton and man-made polyester, our industrial waterproof covers give your goods extra protection against rough handling, abrasion and ripping.
Waterproof Industrial Covers
Waterproof, yet breathable, our canvas can be made with a specially engineered polyurethane coating to allow moisture out through the fabric but not let moisture back in. This is useful for many instances, particularly if you are storing goods in moist environments. With our waterproof industrial covers, your goods will not sweat and spoil. We have created bespoke waterproof solutions for construction companies storing materials on site. Our waterproof tarpaulins ensure the materials are stored safely and in good condition until they are ready for use.
Waterproof Machine Covers
Maintaining effective machinery is essential to the performance of your business. We have manufactured waterproof machine covers to protect electrical and mechanical features on a range of machinery and plant. You can give your machinery added protection with a bespoke machine cover from Cunningham Covers.
We provide a variety of durable machine covers for numerous industry needs. Our custom fit waterproof machine covers have been used in food manufacturing, meat processing plants, construction, quarrying and mining as well as across various sites in the oil and gas industry. Long-lasting, resistant and completely customizable with doors, windows and zips, we can create the ideal fit for your machine. We can also create your machine cover in transparent PVC, so you can always see what is happening on the inside. Artwork and logos can be applied to waterproof PVC machine covers during manufacture.
Made to Measure Waterproof Tarpaulin Covers
At Cunningham Covers, we pride ourselves on our made to measure waterproof tarpaulin covers. With a bespoke production method, you can request a waterproof tarpaulin cover in any shape, size, colour and for almost any use. We have already manufactured waterproof tarpaulins for fuel tanks, powerpacks on site, container covers, fertiliser storage and for large outdoor buildings. Throughout the process, our team of talented engineers will advise you on the most suitable materials for your project.
Get in touch to find out how we developed bespoke and high-quality waterproof tarpaulin covers for, agricultural, commercial and manufacturing warehousing, sand and salt storage, aviation and airplane hangars, marine storage and emergency shelters. We can do the same for you, based on your individual needs.
For over 50 years we have been manufacturing bespoke water protection covers in the UK and shipping them right across the world. As an ISO registered company since 1922, you can trust that our waterproof products are tried and tested, reliable and of great quality. Everything we do is one of a kind, made to the highest international standards and put through rigorous testing. At Cunningham Covers, a water protection cover is made to last.
If you have a similar issue or indeed if this solution would work for you submitting an enquiry is easy and we'll get right back to you with a quote. If you prefer you can call us on 028 7964 2638 from the UK or 004428 7964 2638 from Ireland. We accept orders online or by phone.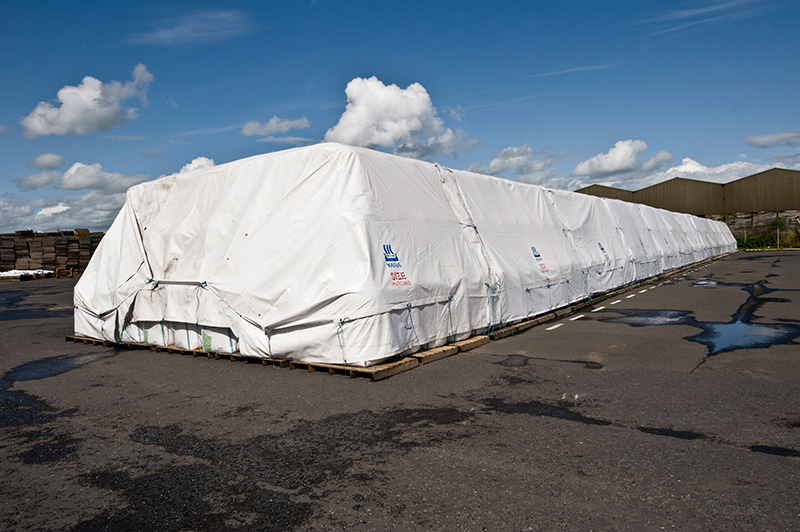 Waterproof PVC Tarpaulin – 610gsm heavy duty PVC made with a polyester base cloth, coated in PVC. It is a durable, UV stabilised high strength waterproof and rot proof cover. It is also available as a flame retardant option.
The finished tarpaulin with re-enforced taped edging, welded for strength, and brass eyelets is equivalent to 640gsm. Eyelets can positioned to your specification with a choice of industrial elastic (bungee loops) or rot proof rope.
A Cunningham PVC tarpaulin, made to measure to suit any shape or size is the perfect protection for high value assets.
Printing logos and graphics
Company names logo-style or other branding can be applied to the cover using Cunningham's state-of-the-art print system ensuring a professional and elegant finish.
If you have a similar issue or indeed if this solution would work for you submitting an enquiry is easy and we'll get right back to you with a quote. If you prefer you can call us on 028 7964 2638 from the UK or 004428 7964 2638 from Ireland. We accept orders online or by phone.
High grade 16oz cotton canvas is the best natural grade cotton canvas available to buy. It is a natural material which is both waterproof and breathable. Cotton canvas is made from 100% cotton, contains no man-made or artificial fibre component so therefore it does not melt, distort or degrade with exposure to high temperatures.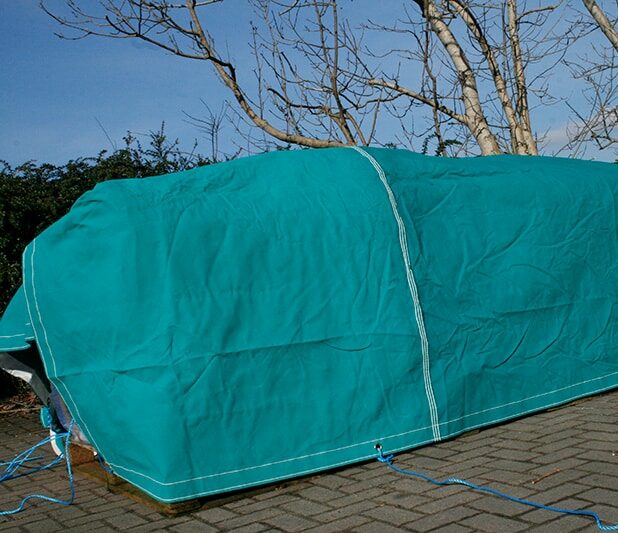 How to care for your canvas cover
Before using a canvas for the first time, it will need to be preconditioned or 'weathered' in order for it to have its own natural water repellence.
Set it up and pre-soak the cover with water using a garden hose or similar. Avoid using high pressure washers as this may remove the surface proofing. The fabric needs to completely soak to allow the fabric to swell and relax/shrink back to tighten the weave on drying. This wetting/drying process will not only allow the canvas to condition and gain its full water proofing properties, but it will also help to close up the stitching holes.
The process of weathering may take more than one attempt if you are wetting angled canvases such as canopies, but from experience two attempts normally suffices.
Never put a damp canvas cover into storage!
Ensure that the canvas is fully dried before packing away. All natural fabrics are susceptible to mildew. For mildew to grow it requires food, heat and moisture. Mildew will result quickly on canvas if folded away wet or stored in a damp place.
Before storing, wash off any dirt, animal droppings and vegetation such as leaves with a hose as these can also promote mildew growth and staining on your canvas when stored. Leave to dry naturally before storing away.
Our Clever Protective Covers can be recycled or repurposed in line with our sustainability goals.
Waterproof Tarpaulin Covers
Get a No Obligation Quote In 2 Hours or Less*
At Cunningham Covers we make it easy to get a quote for your exact specification using our clever forms. Simply enter the details of what you'd like, shape, size & colour and we'll follow up with an exact price for your cover.
* During standard working hours. Quotes may take longer when we're experiencing a high volume.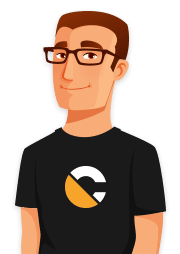 Want us to call you back?